News



The Pine Level VFD is one of the several
recipients that will receive an emist
machine. This was provided from a
$10,000.00 LCIF Covid-19 emergency
grant. This grant was applied for by PDG
and current Council Chair Floyd "Bubba"
Bingham. These units take about two
months to be received because of the
demand. Therefore Bubba created a
layout device for a photo op with the VFD.
Once these units are received we will
being issuing them out over District 34-B.
Pictured at the presentation are, CST
Tracy Thompson, DG 34-B Robert
Thompson, CC Floyd "Bubba" Bingham
and Prattville Lion Josh Bingham. Not
pictured but present, PCC George Head.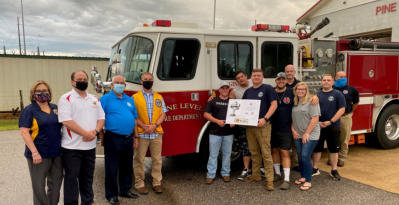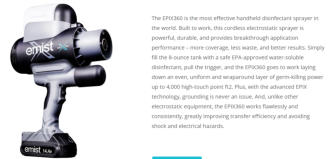 2020 - District 34-B received a LCIF grant
in the amount of $10,000 to support the
relief effort in Fultondale, Alabama
after an EF-3 tornado hit the area.
The
following are some images from the Lions
working during this community assistance.
We also had the Alabama Lions Sight
Mobile Eye Clinic several days with Kent M.
Daum, O.D., Ph.D., Optometrist and
Director. Lions Clubs donated money
beyond the disaster grant to pay for
several people to get exams and glasses
lost during the tornado.
The Fayette Lions Club
recently met and
donated $2500 to Fayette County High
School athletics. These funds come from the
profits generated as a result of the FCHS
football program publication.
The Fayette Lions Club has for many years
handled the program publication. Once
produced the programs are given to the
FCHS Band at no cost, so they can sell and
raise funds.
Shown with Dr. Jeremy Madden, who is
accepting the donation on behalf of FCHS
are Lions Club members including Andrew
Bynum, Dr. Bruce Perry, Kerry Tucker, Mark
Brown (Lions Club President), Justin Hayes
and Alva Grimsley.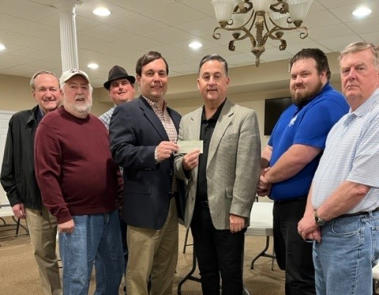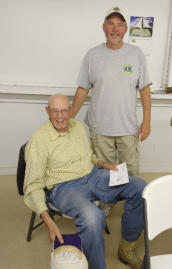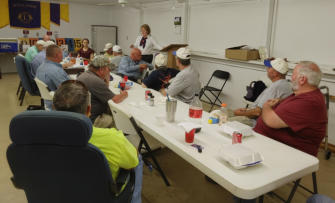 Left is Darcie Rodgers
receiving his 55-Year
Monarch Chevron Pin
from President Jerry
Bishop.
Below is DG Brenda
Elliott speaking to the
Reeltown-Liberty
Club
.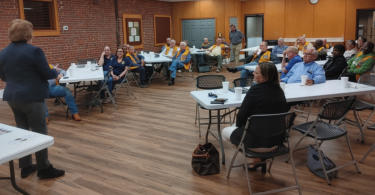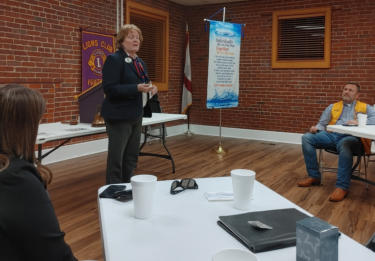 District Governor Brenda Elliott
speaking to the

Prattville club.
Adamsville Forestdale Club
- (L-R) Roger
Youngblood receiving his 50-Year Monarch
Chevron membership pin, DG Brenda Elliott,
and Anthony Brooklere receiving his 60-
Year Monarch Chevron Membership pin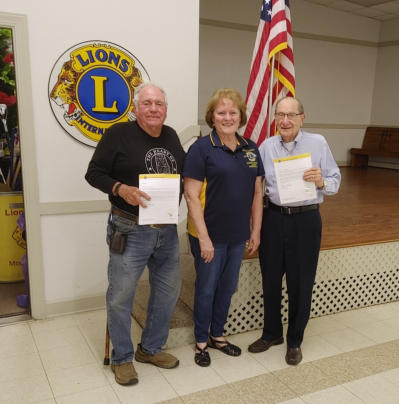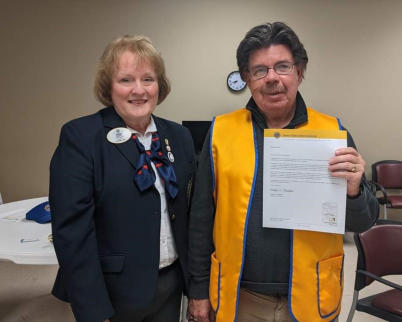 Helena Club's
Dennis McCluskey
accepting a 10 year chevron pin
from DG Brenda Elliott.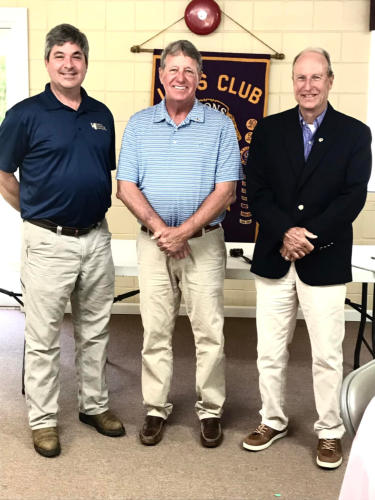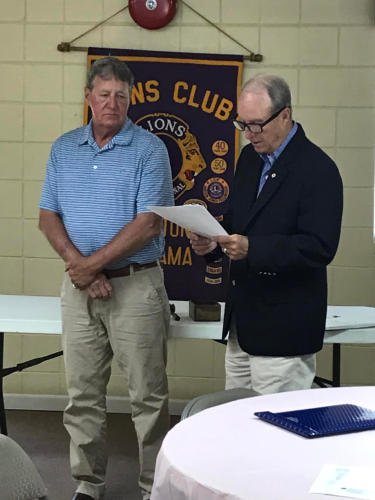 April 22, 2022 - At the

Clanton Lions
Club
weekly meeting, we had the
pleasure of inducting Leslie Eiland
into our club. Pictured with Mr. Eiland
is lion members Kenyon Easterling
and David McCary.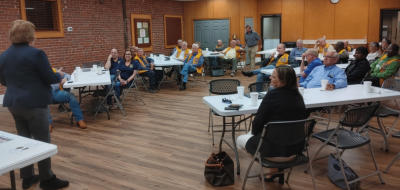 April, 2022 - District Governor Brenda Elliott
at the

Prattville Lions Club meeting.